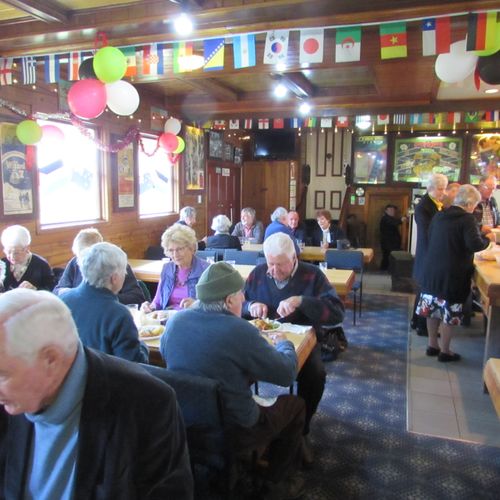 Mid-winter lunch. Ryders Cinema & Restaurant, 177 Riversdale Road, Avondale, 10 am – 2 pm on Friday 26 June as originally planned. The movie will be followed by a roast dinner prepared on a coal range. Two meats, lamb and pork; kumara, potatoes, pumpkin, served with mixed vegetables and gravy. Salad option available if vegetarian but let us know with your booking. Cost $25 per person to be paid either in advance or on the day of the lunch. Dining room seats 50 with an additional 30 in the outdoor area.
List of those going to Ryders
West Auckland Rebus [amount paid]
Neil Castle: 1 [$]
John Corban: 2 [$50]
Mensto De Roos: 2 [$25]
Andrew Geddes: 2 [$50]
Justin Griffith: 1 [$50]
Roger Laloli: 2 [$50]
John Mihaljevic: 1 [$25]
Trevor Pollard: 2 [$]
Trayton Wickens: 2 [$50]
Vince Middeldorp: 1 [$25]
Peter Cox: 1 [$25]
Stephen David: 1 [$]
Bill Mutch: 2 [$50]
Andrew Narayan: 2 [$50]
Charles Nicholls: 1 [$25]
Barry O'Rourke: 1 [$25]
Laurie Vincent: 2 [$50]
Noel Rose: 1 [$]
Waitakere Rebus
Jan and Michael Bradstock: 2 [$]
Bob Lee: 1 [$]
Pauline Brooks: 1 [$]
Alexis Langhome: 1 [$]
Vince's friend
John Thomas: 1 [$]
Late notice
Merilyn Rose: 1 [$]
Lorraine Galvan: 1 [$]
Hogan Gressell: 1 [$]
Neville Exler: [$]
Mr & Mrs Ness: [$]
Phil Bennett: [$]
Historic Society
Alison Turner [$]
If you see a mistake on the list
If you see a mistake on the list please contact, either Mid-Winter lunch organiser Laurie Vincent phone 820-2234 email [email protected] or Treasurer Justin Griffith phone 282-3104 mob 021-08490906 email [email protected]
Click here to download the payment and meal choice form
If you are paying on the day, downloading the form, filling your name in it and bringing it along with correct cash will help.
If you can't manage the download and/or don't have correct money there is no real problem. Justin will have spare forms and change with him at Ryders.
The meats will be lamb and pork. There is no need to tick the selections boxes on the form.